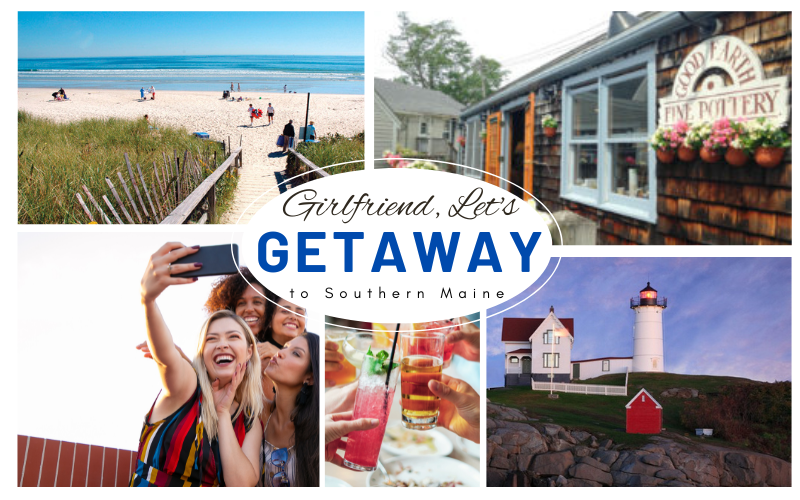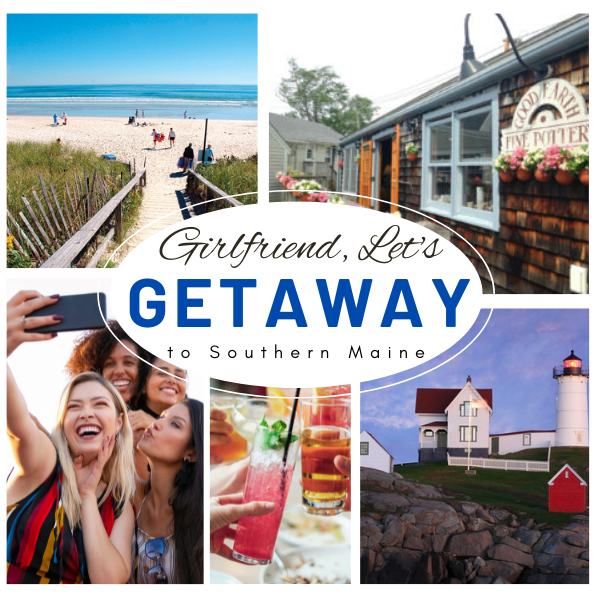 Southern Maine is the perfect place to explore and have fun.  Hosting girlfriend and mother-daughter weekends is such a treat for us. We've rounded up a few ideas to explore the four small towns in the southern part of Maine – Ogunquit, Kennebunkport, Kittery, and York.
Ogunquit – Beautiful Place by the Sea
Take a Walk – After you finish your fabulous breakfast at the Blue Shutters Inn, take our private path to the The Marginal Way.  This famed, paved cliff walk meanders for a little over one mile along the ocean, from Perkins Cove to Shore Road near downtown. Benches are available in many spots to people watch, take a selfie, or breathe in the salt air and enjoy the crashing surf. It's a popular spot for weddings, so you may even see a couple tying the knot during your stroll!
Shopping – There are so many boutiques and art galleries filled with treasures to commemorate your trip or take home for gifts.  A few of our faves are Perkins Cove Pottery Shop, Goods Ogunquit, TailSpin Studio  and Calluna. Be sure to tell the shopkeepers we sent you!  We love supporting small businesses like ours.
Ogunquit Beach – Did you know that Trip Advisor Travelers' Choice Awards ranks Ogunquit Beach number three among the 25 best beaches in the United States, from California to Florida (not to mention Hawaii)?  Let us pack you a Beach Picnic for Two, grab a few of our complimentary beach towels and chairs and spend the day soaking in the sun on the beach.
York – Second Oldest Town in Maine
Like most of Maine's small towns, York features a small-town atmosphere with just the right balance of inns and great restaurants.
Nubble Lighthouse – In 1874 President Rutherford B. Hayes appropriated the sum of $15,000 to build a lighthouse on this "Nub" of land now on the National Register of Historic Places. After taking a group photo with the lighthouse as your backdrop, keep an eye out for Great Black Backed Gulls, Herring Gulls, Double Crested Cormorants, Sun Fish and Harbor Seals.
The Golden Rod – Do you know how saltwater taffy is made? Stop into The Goldenrod – part candy shop, diner and old-fashioned soda fountain, diner to watch it being made. Having been in business since 1896, the shop has crafted its sweet taffy to perfection.
Wiggly Bridge Distillery – This father and son small batch award-winning distillery is named for the original Wiggly Bridge. Built in the 1930s it's the smallest pedestrian suspension bridge in America. All their spirits from whiskey to rum are handcrafted. You can schedule a tour and tasting of their distillery for a fun afternoon happy hour (but be sure to make it back to The Trellis House at 4:30 p.m. for our happy hour!).
The Cliff Walk The Cliff Walk Trail is a gorgeous 1.2-mile out-and-back trail that leads from the York Harbor Beach, along the cliff side, to Milbury Lane and features beautiful views of Maine's southern coastline. You'll see amazing views of York Harbor and the beach below along with massive mansions along the coastline.
Kennebunkport a Historic Fishing Village
Explore Dock Square – Whether you're in the market for high-end designer clothing, handmade crafts, or paintings by local artists, you'll find what you're looking for here. A quaint little village with shops, art galleries, boutiques, t-shirt shops, bakeries, and restaurants. Book stores and antique shops are filled with rare Maine treasures you won't find elsewhere. You could easily spend the day browsing the shops along the waterfront in Kennebunkport, with lunch at a café, or happy hour.
Sea Love Candles – A beautiful custom candle bar that allows you to create your signature candle scent to commemorate your visit to Maine. Gather your girlfriends for a mimosa to learn about the candle-making experience and shop their lovely store filled with home accessories, apparel, books and more. We have VIP 15% off passes to share with you toward to candle making experience.
Kennebunkport Historical Tours – Built in 1853, White Columns is the Kennebunkport Historical Society's premier property. Owned and loved by the same family for 130 years, the Victorian-era home has retained its old-world charm and still the home's original furnishings. Step back in time by taking a guided tour. Docents will lead you through seven rooms of the stately home and share stories about three generations of the Perkins-Nott family that lived, loved and lost in this magnificent Greek revival mansion. The tour includes history of Kennebunkport, its shipbuilding and maritime traditions, and the intriguing story of the family that inhabited the home.
Lunchtime Culinary Walking Tour Take a bite out of Kennebunkport, Maine's eclectic culinary scene on this 2.5-hour guided walking tour. You will have the opportunity to taste locally caught lobsters, homemade chowders, and much more as you learn the history of this village on the sea.
Kittery
Kittery's main claim to fame is its fascinating history, which dates back to 1623 as a fishery. Incorporated in 1647, the town is known as the oldest town in the state of Maine.
Kittery Outlets – Over a mile long, the Kittery Outlets has over 120 popular brand name outlet stores and of course the famous Kittery Trading Post.  New England's Fashion District, features the latest and greatest in fashion, accessories, home furnishings, housewares, and specialty items.
Fort McClary State Historic Site Fort McClary, which stands at the mouth of the Piscataqua River, took its name from Major Andrew McClary, who died in combat during the Battle of Bunker Hill. Today, Fort McClary State Historic Site is one of the most popular places to camp, fish, hike, and enjoy nature and history in Southern Maine.
Go Dancing – The Dance Hall – The Dance Hall is Kittery's premier entertainment venue for arts and culture in the town, all centered around the hall's maple wood dance floor. During the weekend, you'll find live musical performances of all kinds. During the week, the Hall offers dance classes for all ages.
Just Us Chickens – is an artist cooperative in the heart of Kittery. This gallery displays work from 30 local artists in every medium. You can enjoy looking at jewelry, paintings, sculptures, drawings, fiber works, basketry, and other unique forms of art.  Because JUC is an artist cooperative, it's fully run and operated by the artists themselves. You might even get the chance to meet the creators! Also, you'll find special exhibits, such as the featured artist of the month.